I have a background in computer programming and formerly worked for the Department of Education. My tertiary qualification is in communications and information technology. I've been a photographer for most of my adult life and have worked professionally for 8 years. I'm a member of Nikon Professional Services and use Nikon professional cameras and lenses.
Everyone has a digital imaging device/s and about 99% of the population classify themselves as photographers. However there is a big difference between a snapshot and a photograph. Digital images are produced in the billions every day so it's clearly a challenge to create something that stands out and people will cherish. Something people will want to print and keep as a special memory of an emotion, a relationship or a significant event in their lives.
Contact me for bespoke printing on Ilford Galerie papers using a high resolution Epson SC P800 printer. I can also arrange custom framing.
This is what some of my clients say about me:

"I'm more than happy to publish your beautiful images. I feel like Day of Dance does not get the glory it should but your photos help do it justice!"

"I am in awe of the images that you produce and, as I have said in the past, you have this ability to add to the vision that we see. Thank-you for time and effort and complete professionalism with this work."

"I love your work. Your photos absolutely show M... lost in her dance and the emotion and passion she feels so strongly for it."

"I'm now looking at the photos you took and I am literally almost in tears as the photos are just beautiful. You are a really, really great photographer Stephen."

Here's a list of some of my published writing on photography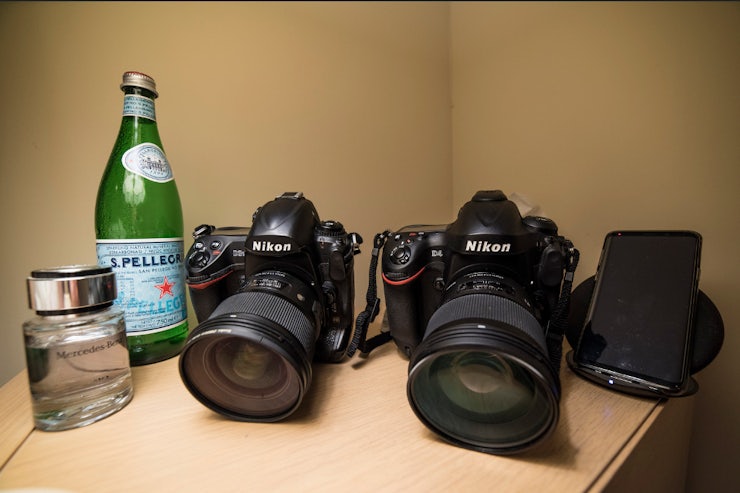 My D3s and D4, 24mm and 50mm Sigma Art lenses, Samsung Galaxy S9+
My Nikon Z6. This camera allows me to shoot silently during dramatic performances in an auditorium, during a wedding ceremony or in other situations where a camera shutter is intrusive. It also allows me to make 4k video clips.
Photography, as is the case in many fields, has it's specialties. Mine is to capture fast moving action on stage in often complex and challenging lighting environments. Even so, I have the equipment and technical know how to photograph weddings, real estate, musical concerts or sporting events.

Post Processing
As a stage photographer, it's my passion to capture the dramatic moment when the performer is engrossed in their special moment in front of an audience. As such, I'm not working with a fixed set of studio lighting with predictable and repeatable results (although I have all that gear and can and do work with controlled lighting). The stage performances I photograph will push my state of the art camera systems to the absolute limit of what digital photography is capable of. The images will then often need extensive retouching to bring out their full potential.
Stage lighting can be so complex and colourful that generating a beautiful image becomes an increasingly technical challenge. That's why many of my shots require extensive retouching in software post production. I'm also offering this as a service within the product catalogues you will find on this website. For more personalized work or retouching of your own images call or email me. Prices are very reasonable. It's best if you can send me something 300DPI or original camera Raw files if possible.
Here is an example of the out of camera shot and my processing work to make that dull shot really sparkle!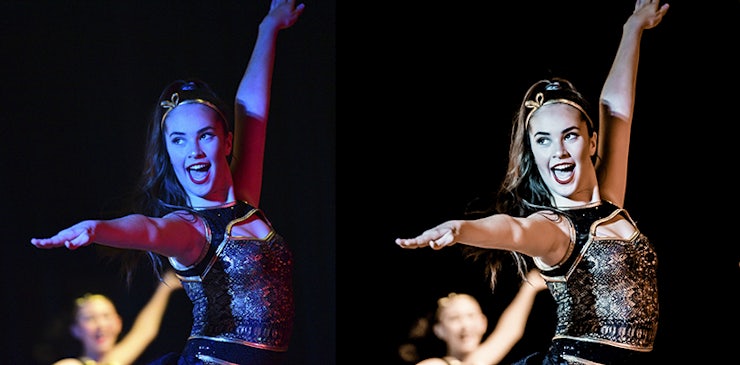 I also love the timeless quality of monochrome. This is also part of the editing process

All my images are taken with top of the line professional equipment. Ultra High resolution shots are available for a modest fee in the digital download package you will find throughout this site. I would also humbly request that you refrain from making screen shots of my work. If I don't get paid, I can't do my job.
Images taken with Nikon D810 are 7360 x 4912.
Images taken with Nikon D750 are 6016 x 4016
Images taken with Nikon D4 are 4215 x 2810
Images taken with Nikon D3s are 4256 x 2832
Images taken with Nikon Z6 are 6048 x 4024
All images are taken in 14 bit RAW and highest quality jpeg.

Camera Bodies:

Nikon D4
Nikon D3s
Nikon D810 FX
Nikon D750 FX
Nikon Z6 Full Frame mirrorless / silent
Lenses:
Nikon 70-200 F2.8 VR2
Nikon 80-200 D F2.8
Nikon 28-105 D
Nikon 85mm F1.8
Nikon 135mm F2.8 Ai
Sigma 35mm F1.4 Art
Sigma 24mm F1.4 Art
Sigma 50mm F1.4 Art
Nikon 24-70 F2.8 G
Tokina 16-28 F2.8 wide angle
Tokina 11-16 F2.8 DX wide angle
Nikon 70-300 VR zoom
Nikon 60mm 2.8 D Macro
Accessories and Studio Lighting:

Nikon SB700/900
Pocket wizard flash triggers
Manfrotto Tripods
Manfrotto 303 plus Pano head
SMDV 60cm
SMDV 70cm
Godox AD600
Godox AD200
Godox Remote flash triggers
Images are backed up to three locations and post processed in Lightroom and Photoshop
Visit the portfolio for examples of my work or contact me to discuss your requirements and let me show you how I can make your memories come to life in permanent form.
Warm regards,
Stephen Weir / stephen.weir56@gmail.com
Gallery1 - Stephen Weir Photography